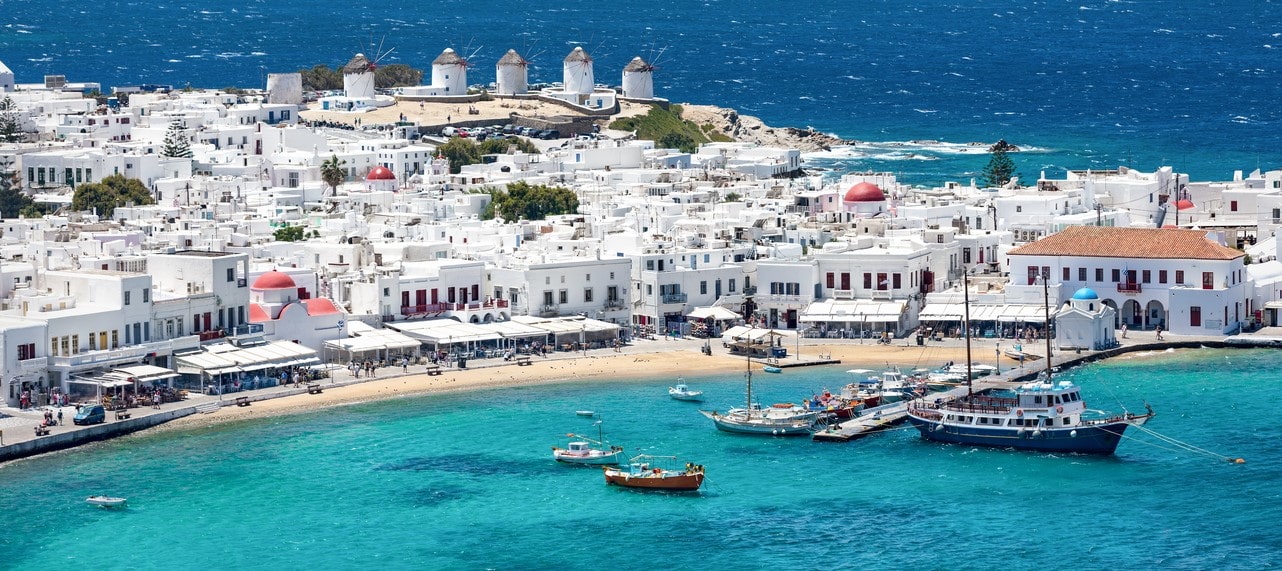 Mykonos
Mykonos is Greece's top destination where all the fun happens!
Famous for its minimalist Cyclades architecture, Mykonos is home to many traditional whitewashed houses and blue-domed churches. However, the island is characterized by a beautiful traditional windmill in front of Little Venice. Here you can enjoy the magical sunset and capture the colorful lights shining on the island's Chora (capital).
Located in the heart of the Cyclades, Mykonos is one of the most famous Greek islands for its international atmosphere and vibrant nightlife.
Your vacation will be an unforgettable experience, and there are many great things to do. Watch the spectacular sunsets of Little Venice, stroll along the narrow cobbled streets of the Chora, spend the day in a luxurious hotel, dance the day at a spectacular beach partys, and swim on the exotic beaches. When the sun goes down, join the island nightlife and party at legendary dance clubs!
In addition, it is the most popular LGBTQ destination in Greece.
The center of the island Chora, has great restaurants, designer boutiques, elegant bars, and top clubs that promise an unforgettable vacation experience in Greece!
And what can we say about the beach? They are simply unique! With emeralds, azure waters, pebbles, or sand, the island has spectacular beaches to suit all tastes! Super Paradise, Paradise, Platis Jalos, and Lia are some of the best beaches. You can enjoy various water sports such as kitesurfing.
Visit the historic island of Delos, explore the island of Santorini, try water sports, take a tour, and do many other activities.
Mykonos' holiday experience will definitely be unforgettable!