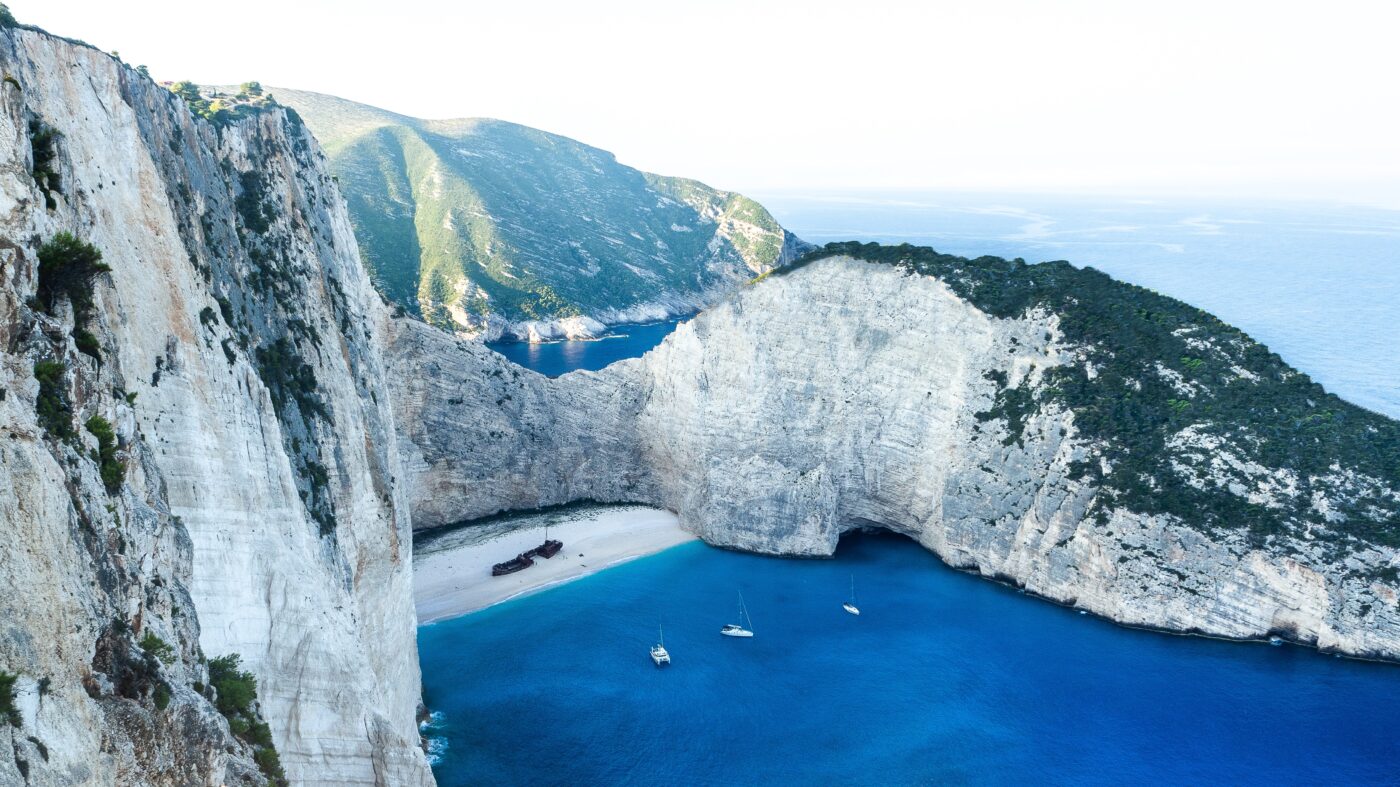 Greece is an amazing country. It is considered one of the countries visited by many tourists each year. Known for its navigation since ancient times. Those myths of Ancient Greece that we read in childhood rise before our eyes as soon as the yacht moored at the shore. In this article, we would like to focus on the main tips regarding yachting in Greece.
1. Don't be surprised if it takes time to get used to sailing.
Some people start their voyage immediately. You can instantly prepare for the sea, never experience seasickness, and instantly relax and enjoy every second of the Greek sailing experience.
But that doesn't apply to everyone, and there's really nothing you can do about it. Plenty of people have a hard time adjusting to life on a boat. You might get a little queasy if you hit choppy water—or even if you don`t. You might stumble around a lot on deck the first day. Needless to say, your first day may be quite exhausting.
Don't let it discourage you-and plan enough rest on the first day so you can adjust faster! If you get seasick, keep an eye on the horizon and consider chewing ginger. Your discomfort will soon pass and you will find that you are enjoying your vacation to the fullest.
Again, this doesn't happen to everyone, so fortunately there isn't a single problem, especially since the waters around Greece are generally smooth. But it's best to prepare.
2. Hire a crew if needed.
You may want to board a bare charter on a Greek charter vacation, but if this is your first yacht or not an experienced sailor, this is not always the best idea.
That doesn't necessarily mean it's a bad idea. Some people actually learn to sail this way, but it is dangerous and can be overwhelming. You focus on learning the details of sailing and navigation, so you don't have the time and concentration needed to understand everything Greece offers.
Therefore, consider hiring a skipper or full crew as needed. They can do a lot of daily sailing work for you, help you plan your itinerary, provide on-site advice and make your entire vacation tedious and worry-free. So you can enjoy sightseeing and relax!
3. Beware of strong winds in August.
If you decide to visit Greece in August, be aware that you may encounter strong winds called "Meltemia" in the north. These winds can be a challenge for inexperienced seafarers.
Also, note that August is in the middle of the tourist season and can be quite crowded (the season is from April to October). June, July, and September are all good months to get away if you want to avoid the crowds. If you want to save money, you can also consider an off-season trip.
4. Layer up.
Most often you want to dress for warm (sometimes hot) weather. That is swimwear, trunks, T-shirts, shorts, short skirts, sandals, etc. You will also need to bring a hat and sunglasses to protect yourself from the strong sunlight. You will also need proper sunscreen.
One thing that surprises many tourists who charter boats in Greece is the cold air above the water. The sea tends to be colder than the land and can be quite chilly due to breeze and boat movements. This is true during the day, especially at night. Therefore, bring at least a warm sweatshirt or jacket.
5.Skip wheels on your luggage.
Rolling luggage may be convenient at the airport or going to and from your hotel, but on a boat, it is just plain problematic. Every time the waves cause the deck to list even a little, your luggage can roll around. Even if it is stowed, this can be an annoyance. So stick with luggage without wheels.
There are two things to consider when packing: you don't need much and the yacht space is limited. We recommend a soft bag that can be easily stored in the cabin. For security reasons, all items should be stored in the boat drawer and wardrobe. These shapes vary and can be difficult to install in a hard case. Soft bags are the best solution and it's easy to get on and off the boat.
6. Keep important documents close by.
If you're going on a vacation overseas, make sure you have your passport and health insurance (such as an EHIC) with you at all times. You must also have verification of the skipper's sailing qualifications at any time for bareboat charters. When you charter the boat, you will be asked for it, and the port officials on the islands may also ask for it. Keep these important documents on board where you can easily find them and where they will be safe during your adventures at sea.
7. Please note the additional cost.
Bareboat charter fees are boat payments and usually include cleaning and fees. Additional costs such as mooring fees are not included. These vary from port to port and are often paid in cash. Other costs of eating and drinking at the marina and coin laundry should also be included in the sailing vacation budget calculation.
8. Always have some cash with you.
Not only are mooring fees often billed in cash, but you can also anchor to more remote bays and towns where you can't pay for coffee or beer with a card after a day's voyage. To avoid disappointment, it is always advisable to carry cash in the euro (Greek's local currency).
9. Stay in touch with the base leader.
If you need boat support, the base leader should always be your first contact. If you need to contact us, please check the number we have gave you.
10. Book a mooring or appear early in the marina
When planning your itinerary, you should also check if you need to book a marina on the island you plan to berth. Make this reservation as soon as possible to secure a spot, especially during the high season. Some marina operates on a first-come, first-served basis. In this case, it is advisable to plan for early arrival. Due to the beauty of the Greek islands, it is definitely worth getting up early in the morning!
11.Be aware of weather conditions
Although skippers are trained to do this,it is advisable to constantly monitor wind and weather information throughout the route for the day. From time to time, you may need to reroute or stay in the bay for an extra day. We know that you don't want to think about bad weather during the summer vacation, but it can save you from a disappointing experience.
12. Plan your transfer to and from the boat
No matter where you board, you need to get there first. In most cases, you have booked a flight and need to go from the airport to the port. Public transport or taxis are available on the mainland. On some islands, you can take a large ferry from Athens or fly directly to the island. In any case, you need to arrange a transfer to the boat. Our company also provides sea transfers. If you need help or advice, please contact us.
13. Food
Meals and onboard services are often included when your vacation is a crewed charter. While chartering a bareboat charter or a skipped yacht, you need to take care of yourself (and your family and friends traveling with you). When planning your trip, you also need to know about the shops available at the marina. It may be better to buy groceries two days in advance. Some marina also has a variety of restaurants if you prefer to eat out. We do not want you to run out of water or food, so it is advisable to collect this information before takeoff. Some of your friends on the boat may enjoy morning coffee on the deck.
14. Don't miss your essentials
We've already talked about the most important items on board, water, and food. There are also some cosmetics and medicines to bring with you when you set sail, such as sunscreen and seasickness medicine.
15. Charge your gadgets
You possibly don`t want your computer on your holiday, however, cellphones and digital cameras are most likely to be with you. If you're sailing it will most likely not be possible to charge those gadgets on the boat, so you need to ensure to get everything charged while you`re at anchor withinside the marina.
16. Familiarize with the area
Review all options before you start planning your route. The Greek archipelago is an archipelago of thousands of islands of various sizes, each offering a special exploration. You wouldn't want to find out after your holiday that you were passing a gem without knowing about the treasures it holds. Everyone has heard of Corfu, Mykonos, and Santorini, but you may want to visit smaller islands like Paros and Skiathos. Also, Milos and the Cyclades are always worth a visit. We can provide you with a small map of all the Greek islands and marina.
17. Plan your activities ahead
Whilst you`re already making plans wherein you put anchor, you would possibly need to book extra sports in advance. You may want to do guided excursions via old historic villages and archeological sites, take diving instructions or attempt paddleboarding. Some islands provide excursions in addition to inland in a 4×4 – anything it's far you`d want to experience, take a look at what the islands have on provide and book your spot early.
18. Immerse yourself in culture and landscape
Local culture and landscapes should also be added to additional activities. You don't necessarily need a guided tour to explore the olive groves and small chapels on the hills. If you prefer traditional food, ask the locals for recommendations. Authentic food is usually a short distance from the busy marina attractions. Don't forget to explore the underwater world with your snorkel and goggles.